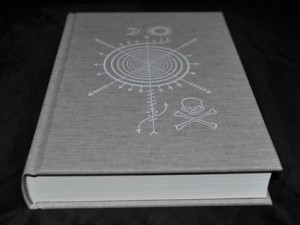 The world has been waiting for a well written concise book about Palo in English for quite some time now. I was completely unaware that this book existed up until not too long ago. I believe this is because the publisher, Scarlet Imprint, was targeting the "new age crowd" and not solely those English speaking practitioners of other Afro-Cuban religions. This makes it difficult to stumble upon the same way we stumble upon books at "botanicas" whether they be virtual or not.
I was however lucky enough to come across it at the suggestion of one of my godsons who spoke very highly of the work and wanted to know what I thought of it. I anxiously looked for it and found I couldn't get it at my local Barnes & Noble. I searched for the book online and hesitantly coughed up $29.99 plus shipping for a paperback version that was coming from a third party. As somewhat of a collector of published works on Palo I wanted to add it to my library but I was worried it was going to be as big a disappointment as Raul Canizares' The Book on Palo or perhaps another sensationalized book on Palo that really isn't about Palo and is a strange mix of folk magic, Palo names and Mexican deities.
The author, Nicholaj De Mattos Frisvold, is an Anthropologist, Psychologist as well as a practitioner who traveled to Havana, Cuba to undergo initiation. I almost couldn't think of anyone better to tackle such a project! I was hoping his work would be a reflection of both the academic aspects of his life as well as the religious one and I am happy to say it is. Nicholaj de Mattos Frisvold has released the first authoritative work on Palo in English and available for mass distribution that is worth reading. I can't say that I agree with all of the author's ideas or that the work is flawless. The references and comparisons to unrelated cultures and history was a little too much Anthropology for me and seemed unnecessary but that may just be because I wanted to get to the "meat" of the subject and I have little interest in anything that is not directly related to Palo. The author's role as a Psychologist rather than as a Palero are dominant when he describes fake possession as a "public display of psychopathology" which while interesting is completely unacceptable among Palo practitioners. In short, aside from the price tag, there is very little negative that can be said about the book. Rather than dive into a "how to" mess with solely folkloric, little or unfounded explanations of why, or how or where the author provides careful analysis and information that anyone interested in the subject should be aware of. I do believe this to be a highly respectable piece of work and an excellent addition to any library.
The digital edition of the book is available direct from Scarlet Imprint:
http://www.scarletimprint.com/palo_mayombe.htm
To buy through Amazon follow this link:
http://www.amazon.com/Palo-Mayombe-Garden-Blood-Bones/dp/0956720390/ref=cm_cr_pr_product_top